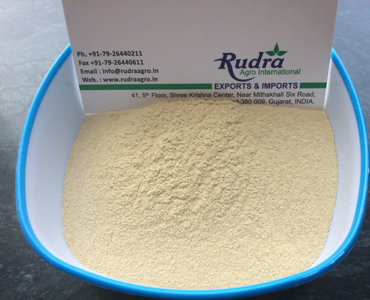 Cassia gum is approved for use in Europe by the Commission Directive (EEC No. E 499) and is listed in the Annex of the Council Directive (70/524/EEC) as a stabilizer (thickening and gelling agent) in the manufacture of canned pet foods (for cats and dogs).
It is also approved for use in Japan and is listed as a food additive in The Ministry of Health and Welfare Announcement No. 160 (10 August 1995).
A panel of experts in the areas of toxicology, pharmacology and food science was assembled to review the safety of cassia gum for use as a thickening agent in human and pet foods in the United States.
The available data on cassia gum and structurally related gums demonstrate a lack of toxic effects in animals. This review is the basis for the consideration of cassia gum as generally recognized as safe (GRAS) under conditions of its intended use as a thickening agent in human and pet foods.
slider
SPECIFICATION

Technical Specification

CASSIA TORA POWDER: : (HS CODE : 9109915)

Appearance
Yellow White Powder
Moisture
12% Max.
Ph (1% M)
5.5-6.5%
Gum Content
80% Min.
Protein
5% Max.
Starch
Negative
Fat
0.8% Max.
Ash Content
1% Max.
Acid Insoluble Residue
3% Max.
Gel Strength
500 Min.
Hot Viscosities
Brookfield 4/20@ 25oC
Granulometery
On 60 Mesh
60% Min
Through 100 Mesh
30% Max
Through -100 Mesh
05% Min
Microbiological
Acrobic Plate Count/gm
10000
Molds & Yeast/gm
500
Coliform/gm<3
Through -100 Mesh
05% Min
Ecoli / Coli forms
Negative
Salmonella
Negative
25 KGS OR 50 KGS HDPE BAGS WITH PE LINER OR 1000 KGS JUMBO BAGS WITH PE LINER.